ORGANIC SULFUR – PURE OptiMSM®  (methylsulfonylmethane) to support the skin integrity
NATURALSKIN OptiMSM® can help support healthy skin, joint mobility, cartilage, and the inflammatory response.
Purity
GRAS-designated
Kosher and Halal certified
non-GMO
allergen-free
non-shellfish-derived
vegan MSM backed by extensive toxicology data
Vegan capsules
No fillers
Supporting Skin Integrity
Aging skin can occur more rapidly than ever before, due to UV rays, poor nutrition, and environmental toxins. MSM helps inhibit the signs of aging skin by supporting key nutrient production and reducing inflammatory molecules related to the breakdown of dermal collagen and elastin structure of the skin.
Skin integrity refers to skin health. A skin integrity issue might mean the skin is damaged, vulnerable to injury or unable to heal normally. A pressure wound (also called a pressure sore, bed sore or pressure ulcer) is an injury to the skin and surrounding tissue. *
Research suggests that appropriate skin cleansing procedures and protection, as well as nutritional and environmental interventions, may help reduce some of the effects of aging and have positive psychological and health outcomes. **
Glutathione is a critical antioxidant involved in detoxifying and reducing oxidative damage in the body. Without the presence of sulfur, glutathione is unable to function properly. OptiMSM® contains sulfur that is needed to help regulate glutathione.
Mobility & Joint Support / Joint Health
Aging can lead to a breakdown of joint health and mobility. Sulfur is a key nutrient involved in protecting joints, tendons, and connective tissue.
 Sources:
Take up to 2 capsules morning and 2 capsules evening before meal.
NATURALSKIN OptiMSM® (methylsulfonylmethane)
Carbohydrates of which sugars
Nutritional Information

Daily dose 4 capsules

 Energy 

48,33 kJ   / 11,48  kcal

Fats

0,00 g

Carbohydrates

of which sugars

0,01 g

0,00 g

 Protein

2,85 g

 Salets

0,00 g
Content: 200 capsules, 172 g
NOTE: THE RECOMMENDED DOSE SHOULD NOT BE EXCEEDED; FOOD SUPPLEMENTS ARE NOT A SUBSTITUDE FOR A VARIED DIET AND A HEALTHY & ACTIVE LIFESTYLE. KEEP AWAY FROM CHILDREN, STORE IN A COOL, DRY AND DARK PLACE. 
MSM (methylsulfonylmethane), also known as dimethyl sulfone (DMSO2) and methyl sulfone, is an organic sulfur-containing compound that is essential for optimal health. Without sufficient MSM sulfur, our body cannot maintain an appropriate level of homeostasis.
Why OptiMSM® and what is its function?
Sulfur continues to be recognized as a critical dietary nutrient to support healthy aging. With its regulation of glutathione and other mechanisms in the body, MSM can help support healthy skin, joint mobility, cartilage, and the inflammatory response.
OptiMSM® has earned the reputation for the purest, safest, and most consistent MSM in the world. A proprietary multi-stage distillation process ensures a 99.9% pure product to guarantee a consistent, high-quality form of MSM.
ETRUSCOPHARM ensures the usage of only pure and best quality standards raw materials, and for this reason has chosen the best MSM available in the market, OptiMSM®.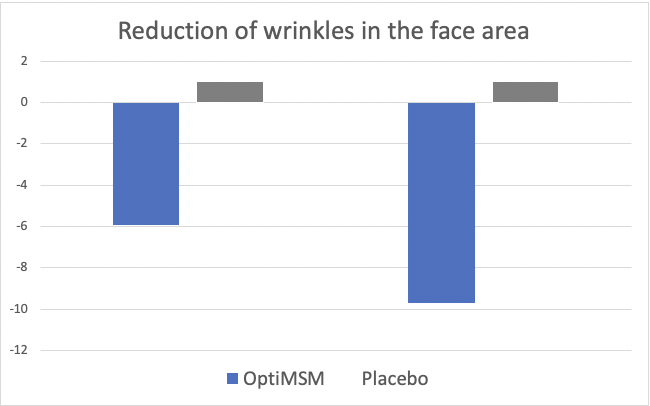 Result of a clinical double-blind study from 2015 with a placebo control group. The probands took 3 g of optiMSM® daily. These are the results after 8 and 16 weeks.
It was possible to prove that optiMSM® can significantly reduce wrinkles in terms of amount, length, and depth after a 16-week test phase. The patient's skin also improved in terms of firmness and volume. MSM has a decisive effect on the relevant matrix proteins of the skin. The antioxidative and anti-inflammatory properties counteract damages caused by degeneration.
Study: Anthonavage, M. et al. 2015. Effects of Oral Supplementation With Methylsulfonylmethane on Skin Health and Wrinkle Reduction. Nat Med J (Boulder, USA).