Ortomolecular premium product for therapeutic supply of L-ARGININE Base (Pure)

Recommended mainly for cardiovascular diseases, diabetes mellitus, arteriosclerosis, hypertension (high blood pressure), high ADMA concentration in the blood, coronary heart diseases (angina pectoris), erectile dysfunction, increased demand for strength and competitive sports.
100% Sourced from vegetal sources
Purity certified
Traceability
Organic certified
No fillers in the formulation
Free from magnesium stearate
Free from preservatives
Gluten free
Vegan capsule shell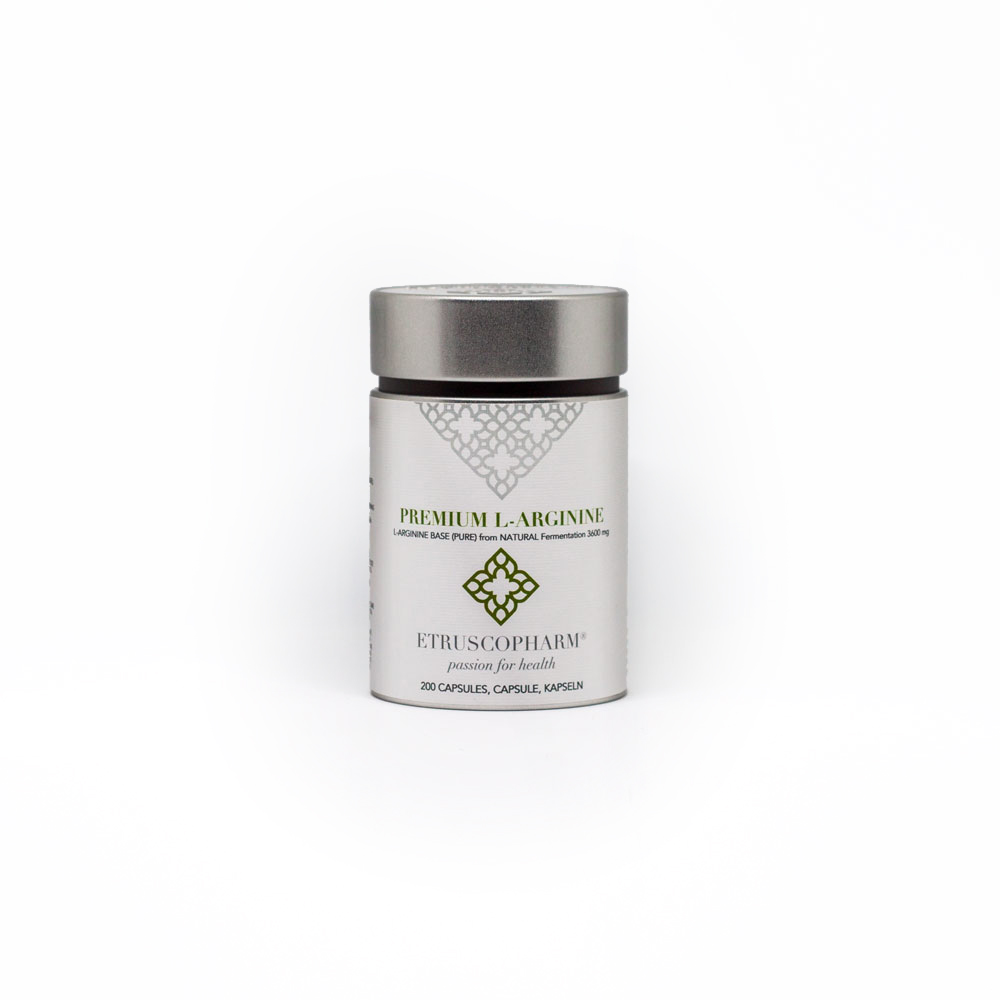 Renovation of cells
Vasodilation and Endurance
Booster for the Immune system
Detox
Diabetes control 
Take up to 2 capsules morning and 2 capsules evening before meal.
 L-Arginine base (pure) 900 mg, Vegan capsule sheel (hydroxypropylmethylcellulose).
 ETRUSCOPHARM uses only naturally fermented pure L-Arginine not Arginine HCL. 1 g of Premium L-Arginine corresponds to 1 g of active  ingredient.
Carbohydrates of which sugars
Content: 200 Capsules – 168 g
NOTE: THE RECOMMENDED DOSE SHOULD NOT BE EXCEEDED; FOOD SUPPLEMENTS ARE NOT A SUBSTITUDE FOR A VARIED DIET AND A HEALTHY & ACTIVE LIFESTYLE. KEEP AWAY FROM CHILDREN, STORE IN A COOL, DRY AND DARK PLACE.
L-ARGININE e is a basic polar amino acid that can be found in several sources.
Animal sources of arginine include: meat, dairy products, and eggs.
Plant sources include: seeds of all types, for example grains, beans, and nuts.
L-ARGININE is converted in the body into a chemical called nitric oxide. Nitric oxide causes blood vessels to open wider for improved blood flow. L-ARGININE also stimulates the release of growth hormone, insulin, and other substances in the body.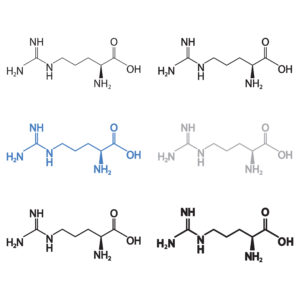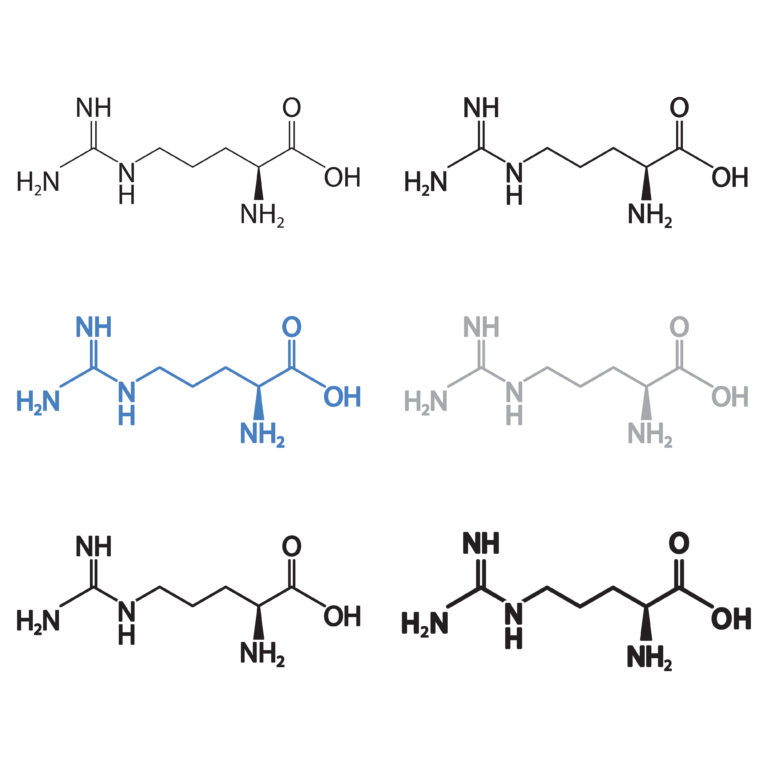 Differences between Arginine HCL and L-Arginine
Sources Fermentation from Natural Grains
Sources: Chemical extraction from goose feather or human hair
We only use 100% PURE L-Arginine, ORGANIC CERTIFIED and TREACEABLE SOURCING
Arginine in the control of diseases and sport performance
Studies as for instance, the one published by the American Diabetes Association, concluded that long term L-ARGININE treatment significantly improves peripheral and hepatic insulin sensitivity in type 2 diabetic patients. The methodology applied was a blind study performed during 3 months with diabetic patients:
"In the first month, patients were treated with their usual diet. Then they were randomly allocated into two groups. In group 1, patients were treated with diet plus placebo (orally three times per day) for 2 months. In group 2 patients were treated for 1 month with diet plus placebo (orally, three times per day) and then for 1 month with diet plus l-arginine (3 g three times per day). At the end of the first and the second month of therapy, patients underwent a euglycemic-hyperinsulinemic clamp combined with [6,6-2H2]glucose infusion. A total of 10 normal subjects underwent the same test as control subjects.
RESULTS—In group 1, no changes in basal cGMP (Cyclic guanosine 3′,5′-monophosphate) levels, systolic blood pressure, forearm blood flow, glucose disposal, and endogenous glucose production were observed throughout. In group 2, l-arginine normalized basal cGMP levels and significantly increased forearm blood flow by 36% and glucose disposal during the clamp by 34%, whereas it decreased systolic blood pressure and endogenous glucose production by 14 and 29%, respectively. However, compared with normal subjects, l-arginine treatment was not able to completely overcome the defect in glucose disposal."
Dietary supplements containing ARGININE are among the most popular nutritional aid intended to enhance strength, power and muscle recovery associated with both anaerobic and aerobic exercise.
According to an Article released by Science Direct – L-ARGININE and L-CITRULLINE in Sports Nutrition and Health – L-ARGININE contributes to the release of growth hormone and creatine synthesis, both of which positively improve muscle mass and strength. Additionally, Arginine is also required for the production of nitric oxide, which improves vascular function and regulates growth and detection of changes in mechanical loading of skeletal muscle. Indeed, ARGININE supplementation positively contributes to heart and muscle health as well as the maintenance of exercise capacity.
L-ARGININE is a donor to nitric oxide, which increases blood flow (pump) and oxygen to the wound, thus increasing collagen formation and reducing inflammation. In addition, it stimulates protein regeneration what explains the rebuild of the cutaneous tissue.
Recent studies indicate that L-ARGININE supplementation stimulates mitochondrial bio-genesis and brown adipose tissue development possibly through the enhanced synthesis of cell-signaling molecules (e.g., nitric oxide, carbon monoxide, polyamines) as well as the increased expression of genes that promote whole-body oxidation of energy substrates (e.g., glucose and fatty acids). Thus, L-ARGININE holds great promise as a safe and cost-effective nutrient to reduce adiposity, increase muscle mass, and improve the metabolic profile in animals and humans.
* References Sources:
Kestrel Health Information, 

 

Cereda, E., A. Gini, C. Pedrolli, et al. (2009). "Disease-specific, versus standard, nutritional support for the treatment of pressure ulcers in institutionalized older adults: a randomized controlled trial." Journal of the American Geriatrics Society 57(8): 1395-1402.

 

Amino Acids. 2010 Jul;39(2):349-57. doi: 10.1007/s00726-010-0598-z. Epub 2010 May 1: Beneficial effects of L-arginine on reducing obesity: potential mechanisms and important implications for human health – Jason R. Mcknight, M Carey

 

Science Direct – Chapter 45 – L-Arginine and L-Citrulline in Sports Nutrition and Health – Authors: Rachel Botchlett, John M.Lawler, GuoyaoWu
US National Institute of Health – PRE-EXERCISE ARGININE SUPPLEMENTATION INCREASES TIME TO EXHAUSTION IN ELITE MALE WRESTLERS – U. Yavuz, H. Turnagol,2 and A.H. Demirel