Ortomolecular premium product for therapeutic supply  of L-ARGININE COMPLEX and OptiMSM®
Recommended mainly for athletes and people who make intense physical activities
Purity
GRAS-designated
Kosher and Halal certified
non-GMO
allergen-free
non-shellfish-derived, vegan MSM 
100% from vegetal source
Traceability
Organic certified
No fillers in the formulation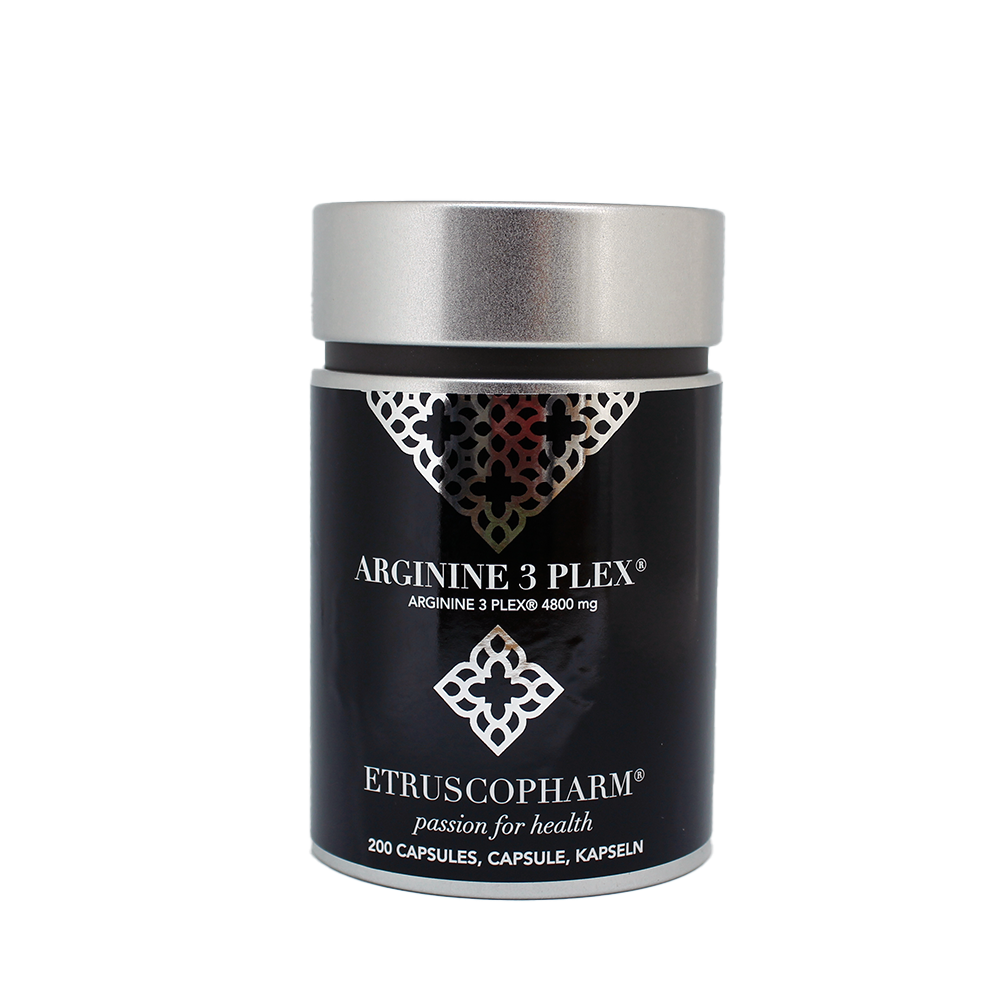 Immune system Strength: The combination of the 3 ingredients in the formulation protect against immune depletion that comes from very intensive exercise. 
Pump: Vasodilatation and endurance 
Anti-inflammatory: inhibit excessive inflammation caused by physical exertion.
Take up to 3 capsules in the morning before a meal and 3 capsules in the evening
Methylsulfonylmethane (OptiMSM®), L-CITRULLINE, L-ARGININE (ARGININE COMPLEX), Vegan capsule sheel (hydroxypropylmethylcellulose).
Carbohydrates of which sugars
Nutritional Information

Daily dose 4 capsules

 Energy 

48,33 kJ   / 11,48  kcal

Fats

0,00 g

Carbohydrates

of which sugars

0,01 g

0,00 g

 Protein

2,85 g

 Salets

0,00 g
Content: 200 capsule – 170 g
NOTE: THE RECOMMENDED DOSE SHOULD NOT BE EXCEEDED; FOOD SUPPLEMENTS ARE NOT A SUBSTITUDE FOR A VARIED DIET AND A HEALTHY & ACTIVE LIFESTYLE. KEEP AWAY FROM CHILDREN, STORE IN A COOL, DRY AND DARK PLACE.
ARGININE3Plex is a combination of three ingredients (L-ARGININE, L-CITRULLINE and OptiMSM®), designed to meet the recovery needs of athletes and people who do intense training and exercise. The formulation encourages physical repair, immune system strength and improved athletic performance. 
It should be taken before training, in order to prepare muscles and blood flow for the workout.
Why ARGININE 3 Plex and what is its function?
The combination of these 3 ingredients ensures a better recovery and strength of the immune system in the body.
L-ARGININE: Pump and recovery
L-CITRULLINE: Stock of L-ARGININE, prevents a decrease in arginine levels by prolonging the effect
OptiMSM®: Immune system protection
Moderate exercise enhance the immune functioning, but, overtraining can deplete the immune system, heading to a lack in the performance and poor health.
It is extremely important to have a balance in nutrition, rest, and adequate training.
ARGININE 3 PLEX supports on the recovery post training, but should be taken 30 minutes before trainning for optimum results.